About Us
Welcome to The Other Bundesliga, the Austrian football podcast that gives you deep insight, expert guests, interviews with the stars, and everything you could ever wish to know about the Austrian Bundesliga and Austria national team - in English!
Since 2018 we've been going on a journey around Austria to keep up with all the happenings in the Tipico Bundesliga, following the clubs as they take on European heavyweights in the UEFA Champions League and UEFA Europa League, and battle it out domestically to probably finish second behind Red Bull Salzburg. There's also the delight of the UNIQA ÖFB Cup - where you'll probably lose to Salzburg in the final too.
So, we hear you ask, how do three Englishmen start taking an interest in Austrian football and begin a football podcast? Well, it all started with a chance meeting at Flanagans Irish Pub in Vienna in March 2015, and from there we dabbled in and out of watching live Austrian football games. In 2018, we decided we wanted to love our local league at last, so we started a podcast to document our journey. Guess what, it worked! Now, we want to spread that Austrian Bundesliga goodness to you.

Whether you're a superfan of Rapid Vienna or Red Bull Salzburg. Whether you've taken an interest in LASK Linz's amazing rise. Whether you remember the glory days of Sturm Graz and Austria Vienna. Or if you don't know your Hartbergs from your Wolfsbergs, it doesn't matter, because you're hereby cordially invited to go on that journey with us and learn some more about what's going on in the Austrian game.
Tom Middler
Tom came over to Austria to work on the stage, but since his first job in football media working on EURO 2012, the sports journalism ball has kept on rolling. Now working as a sports reporter, presenter and newsreader for Austria's state broadcaster ORF, as well as a match day TV commentator for Austrian and German football, Tom is the host of The Other Bundesliga podcast, as well as the editor. You'll regularly find him wandering the press boxes of the Bundesliga looking for potential interview partners, or up in the commentary boxes!
Lee Wingate
Lee is a translator by trade, and his first gigs in the football business were as an interpreter at West Ham and the 2013 Champions League final at Wembley. He moved to Vienna on a whim the following year and now works with the likes of Borussia Dortmund and TSG Hoffenheim on a daily basis, translating their website content into English for an international audience. But little-by-little, the "other" Bundesliga is starting to win over his heart. There's a 99% chance that if you hear a terrible pun on the pod, Lee's responsible.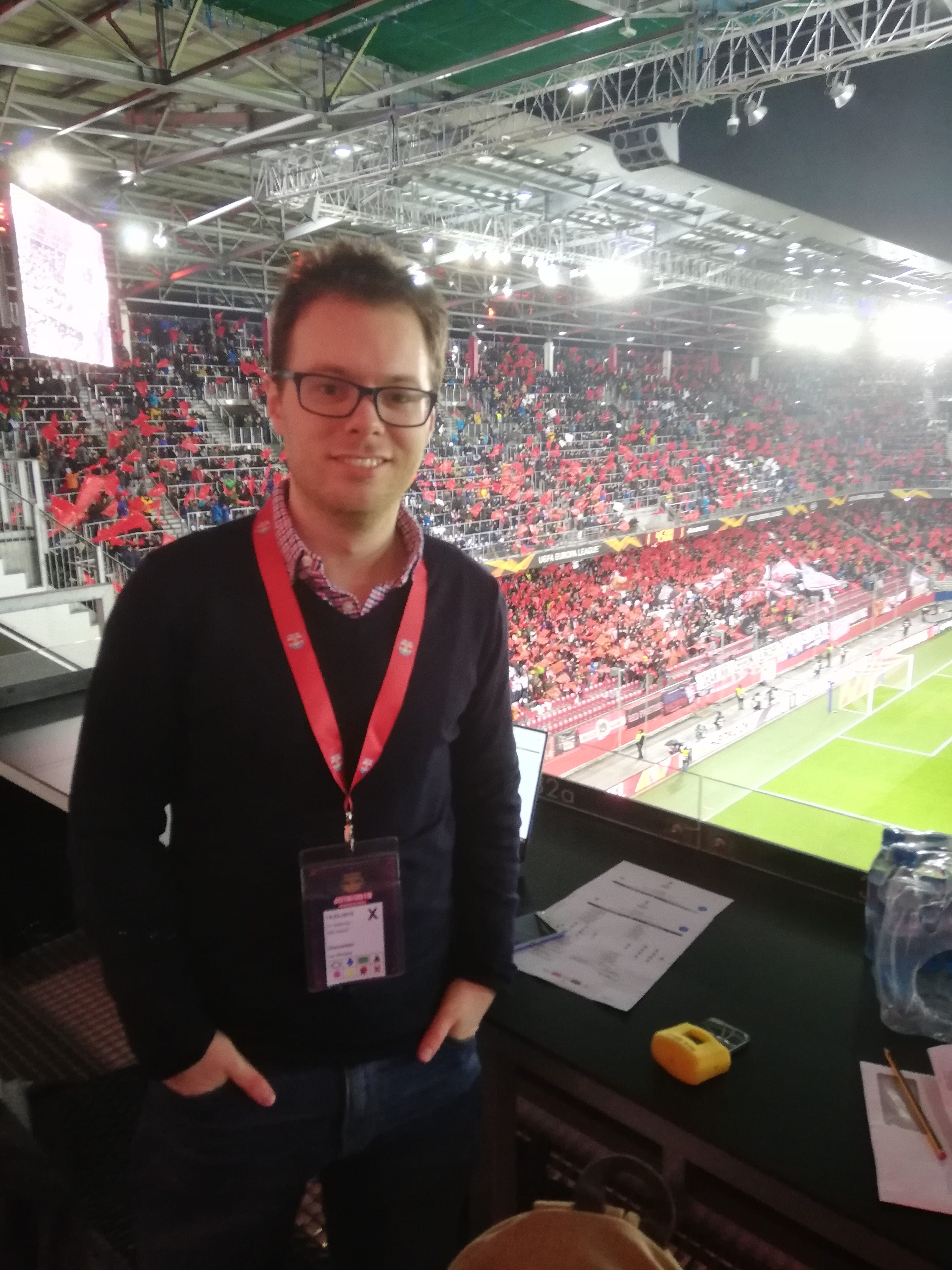 Simon Clark
Simon has lived in Vienna since 2015 and is currently working as a Senior Copywriter for Entain, which includes some of the world's biggest sports betting brands. A social media savant, Simon is behind most of the outlandish ideas we have on our social media! A freelance journalist and writer since 2006, he graduated in Sport Journalism from the University of Central Lancashire in 2012 before spending the next three years traversing the United Kingdom covering football and cricket - as well as being the Media Officer for his boyhood club Gloucester City A.F.C. - before making the move to Austria to join bwin. Simon has attended the last European Championships, World Cup and Nations League finals and is a keen traveller, visiting almost 50 countries.