Ghost Game at the Gugl
Lee Wingate reflects on how LASK have defied the odds this season, and what it's like to watch an elite match behind closed doors


(Note: A version of this article was made available to our Patreon subscribers with early access. Please consider subscribing to our Patreon site and supporting our work via the link at the top of the page.)
Two-thirds of The Other Bundesliga team had just touched down on the Mediterranean coast – a cheeky mid-season getaway to celebrate a mutual friend's birthday and take in a Valencia game at the Mestalla – when the WhatsApp messages started flooding in. The Europa League Round of 16 draw, which had taken place while we'd been in the air, had pitted LASK against Manchester United. Safe to say, it was the dream tie for us – both as football fans and as British journalists covering the Austrian game. Our Twitter inbox filled up in no time. Within 24 hours, I'd appeared on national radio in the UK and Tom had been invited onto the television show Football Focus to talk about the tie.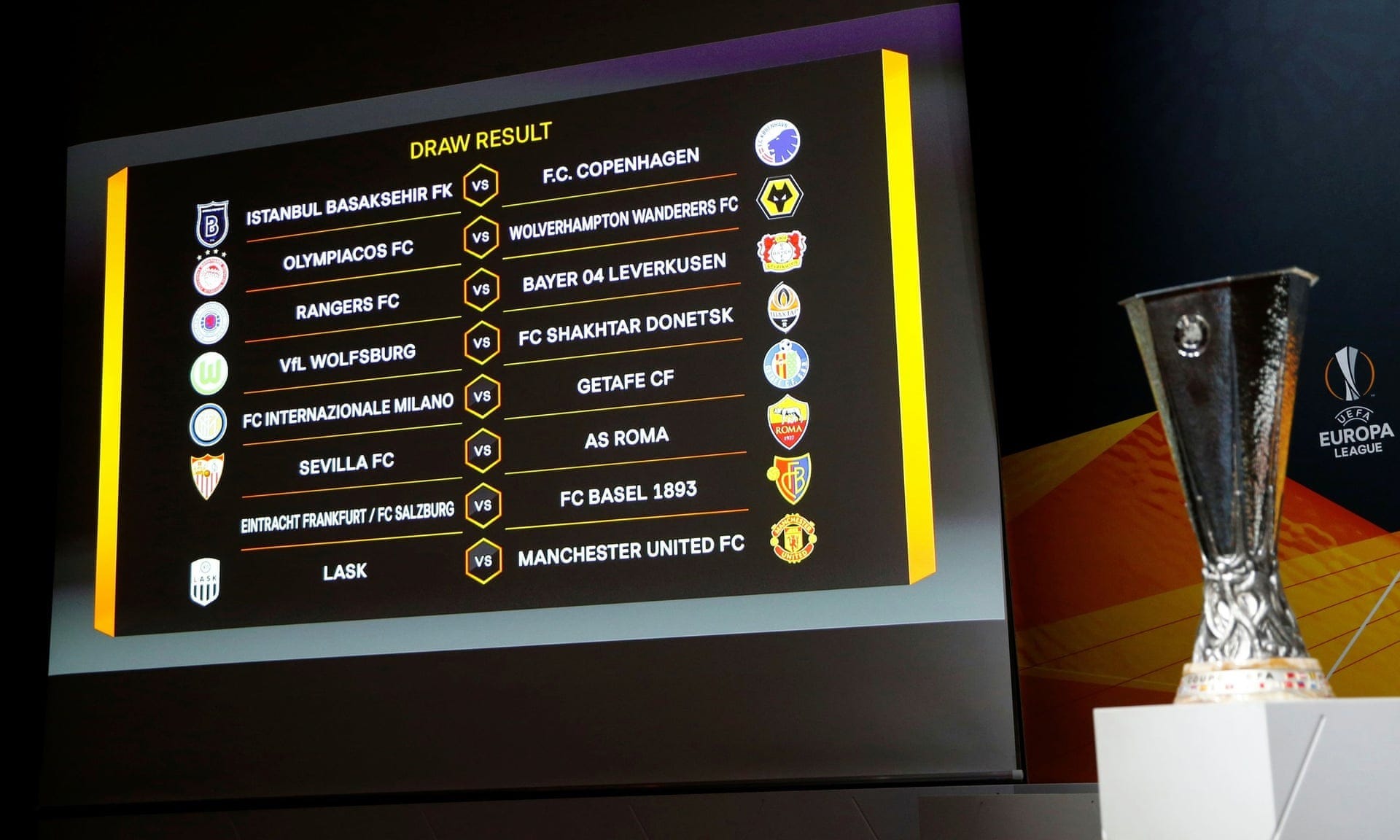 For LASK, drawing such illustrious and storied opponents in the last 16 of a European competition was yet another milestone in an unbelievable season. By the time the draw took place in Nyon on 28 February, LASK were top of the table with a three-point lead over perennial champions Salzburg (they had ended their three-and-a-half-year unbeaten home run in the league with a thrilling 3-2 victory at the Red Bull Arena a fortnight earlier), had booked their place in the semi-finals of the Cup and had upset the odds to finish top of a Europa League group that included the likes of Sporting CP and PSV Eindhoven.


What makes the achievement so impressive is that the club had been plying its trade down in the regional leagues as recently as 2014, and only returned to the top tier in 2017. And its meteoric ascent to the summit of the top tier is even more extraordinary when you consider the greater resources available to their rivals in Salzburg, who have dominated the football landscape in this country for the best part of a decade. The Red Bulls, who have claimed seven Bundesliga titles and six Austrian Cups in the past eight years, recorded a turnover almost eight times larger than LASK's in 2018/19 (€119m vs. €15.3m) and have signed 72 players for a more expensive fee than the Linz outfit's record signings, Marvin Potzmann and Rene Renner, who both cost €500,000.


The first question people usually ask us when we tell them LASK's incredible tale of overachievement comes as no surprise: how have they done it? Some say that the winter departures from Salzburg (top-scorer Erling Haaland and dynamic winger Takumi Minamino left for Borussia Dortmund and Liverpool respectively following an impressive Champions League campaign) were a turning point that tipped the balance of power in LASK's favour. It is not an argument without merit: after all, LASK had not led the table for one matchday all season prior to the mid-season exodus from Taxham, and Salzburg's run of five competitive games without a win in February and early March this year was their joint second-longest such streak since the takeover by the energy drinks manufacturer in April 2005.

But focusing solely on the shortfalls of their biggest competitor would be to do a disservice to the Black & Whites, whose continuity, stability, direct style and shrewd transfer dealings had put them in a position to take full advantage. According to the Austrian football writer Daniel Mandl, the continuity at the club over the years has been key factor behind their rapid rise – even back in their days in the second tier. "They came second behind St. Pölten in 2015/16 but didn't lose their nerve," he wrote in an article for abseits.at. "They held onto their most important players, continually developed the team and in 2017 achieved the promotion they had been aiming for." Patience is a precious commodity in the modern game, and LASK have undoubtedly reaped the benefits.


Patience and continuity alone will not win you titles, however, and LASK's unconventional style has been a breath of fresh air to the Bundesliga. While some of their domestic rivals like the Vienna giants tend to rotate heavily from game to game and make numerous tactical changes for each opponent, Valérien Ismael's side always play the same disciplined but direct brand of football in a 3-4-3 system. Changes in formation and personnel are a rarity. Hard work, high pressing and winning the second balls are a must. Defensive stability is the core – they have conceded only 20 goals in the season, six fewer than the next-best defence – but they are explosive going forward too, often producing tidy link-up play and overloading the wings to whip dangerous crosses into the box.

Indeed, it was a foray down the left flank and a cross into the six-yard box by Samuel Tetteh that ultimately led to striker Joao Klauss scoring the only goal of the game as LASK ground out a hard-fought 1-0 away win in Mattersburg in their last league outing. Simon and I were down at the Pappelstadion (a unique stadium with a grassy knoll behind one of the goals and a bridge above the main stand over which a train passes every two minutes past the hour) for that one. It was by no means a classic but LASK showed the grit and determination to get the three points that kept up their 100% away record this season (11 wins in 11 league games on the road!) and kept them ahead of Salzburg at the top.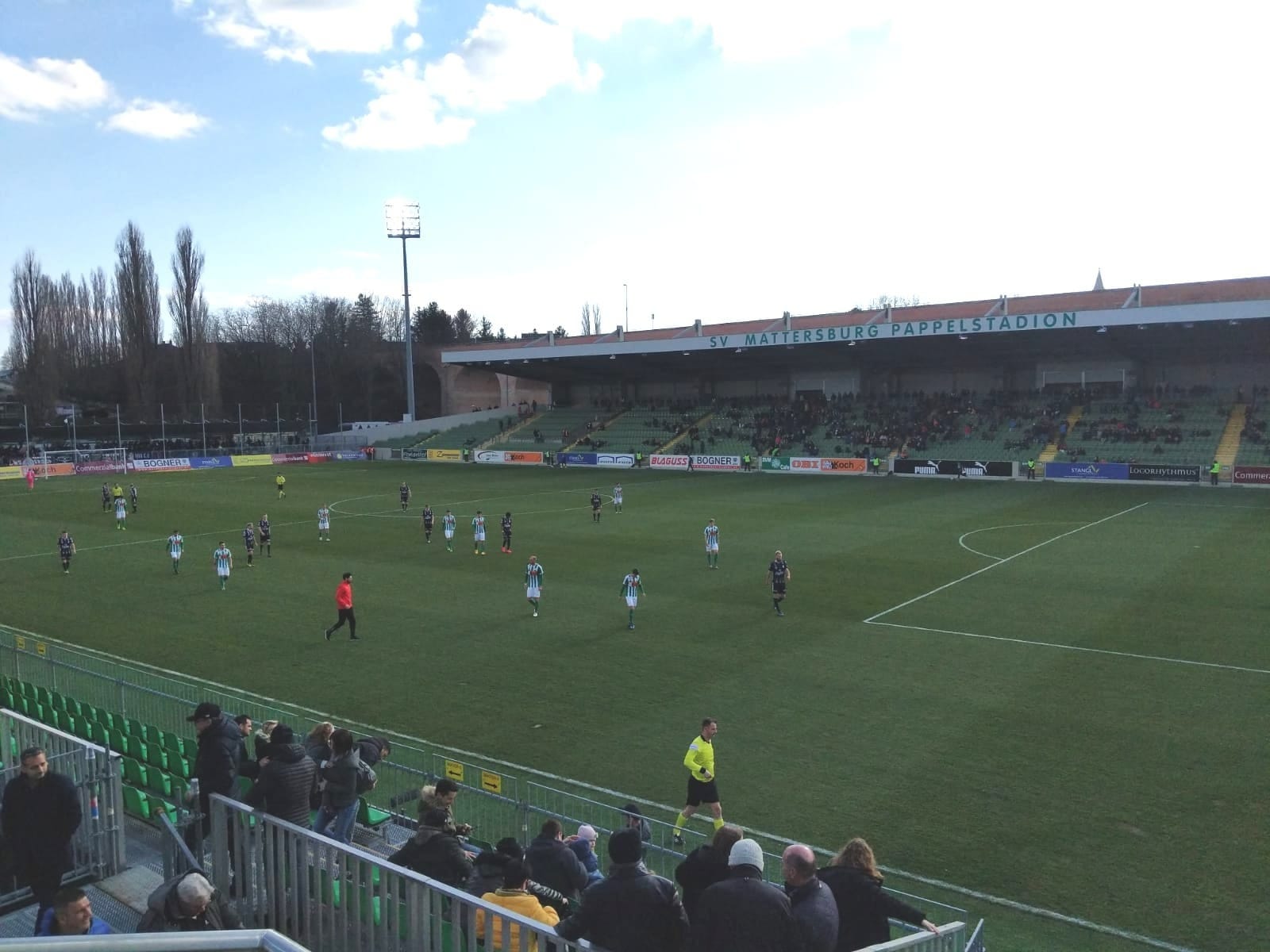 As we crammed into the single train carriage carrying the travelling support back from Burgenland to Wiener Neustadt, we got talking to Konrad Swietek, a lifelong LASK fan based in Vienna (and a fan of our podcast) who had recognised us on the outbound journey earlier that day. The focus among the fans, who had been singing "Who the f*** are Man United" at the Mattersburg game in response to Gary Lineker's post-draw jibe ("Who the hell are LASK"?), had unsurprisingly already switched to the Man United game. "I have a ticket for the home leg and the away leg at Old Trafford too. It's the biggest match in our history" Swietek told us. I asked him whether he would have preferred an easier draw to maximise LASK's chance of going through. His response was emphatic. "No! We'll remember this for the rest of our lives."


Fast-forward two days, and Austrian Chancellor Sebastian Kurz, Health Minister Rudolf Anschober and Interior Minister Karl Nehammer were holding a hastily arranged press conference in Vienna to announce the introduction of three new measures to combat the spread of the coronavirus. "We've been forced to take several measures that we've been preparing over the past few weeks," explained Kurz, who elaborated that there would be a ban on border crossings from Italy, a restriction on the number of people allowed to attend public events, and urged companies to allow their employees to work from home. Specifying the second of those measures, Anschober said: "All outdoor events with over 500 participants shall be cancelled for the next few weeks until the start of April. The same applies for indoor events with 100 or more participants."


With a little over 48 hours to go until kick-off, LASK had no choice but to release a statement announcing that the first leg of their tie with Manchester United would be played behind closed doors. The club had sold out the stadium – the capacity of the Linzer Stadion is 13,300 for European games – so quickly that tickets hadn't even made it to general sale. Now only a lucky minority would be allowed to attend. This news was, unsurprisingly, not welcomed by LASK President Dr. Siegmund Gruber, who cut a clearly frustrated figure at the pre-match press conference the following day. "Nobody can explain this," he said when asked about the limit of 500 people at outdoor events. "In Germany the limit is 1,000. We're dividing that in half, so you can definitely say we're acting on the safe side here in Austria." To make matters worse, Gruber estimated the earnings LASK would lose by playing behind closed doors to be around €1 million – a not inconsequential sum when you consider the club made a profit of €1.252 million in the 2018/19 financial year.

There were even some rumours by the time Thursday morning rolled around – such has been the dynamic pace at which events surrounding the coronavirus have unfolded – that the game would be called off entirely, only for UEFA to promptly issue a statement confirming it would go ahead. But as I began walking up the steep road from Linz train station to the stadium, which is usually lined with fans having a beer and excitedly chatting together on match nights, I couldn't help questioning that decision. What was the point in playing this match when the people to whom it mattered the most could not be there, when other Europa League ties – such as Sevilla vs. Roma and Inter vs. Getafe – were already being postponed, and when most media representatives I had encountered were convinced that the second leg would not be able to go ahead anyway?


The virtually empty stands aside, it was almost business as usual inside the stadium. Music blared through the tannoy system, and the stadium announcer excitedly reeled off the players' names as they came out to perform their warm-up routine. It initially struck me as slightly odd, but then how else do you maintain a sense of normality in an entirely abnormal situation? And it wasn't as though there were no fans at all. A lucky group of between 100 and 120 VIP supporters were gathered in front of press box, and they cheered loudly as the two teams re-emerged to the sound of the Europa League theme tune – not quite as hair-raising as its Champions League counterpart, but an enjoyable musical accompaniment nonetheless – five minutes before kick-off.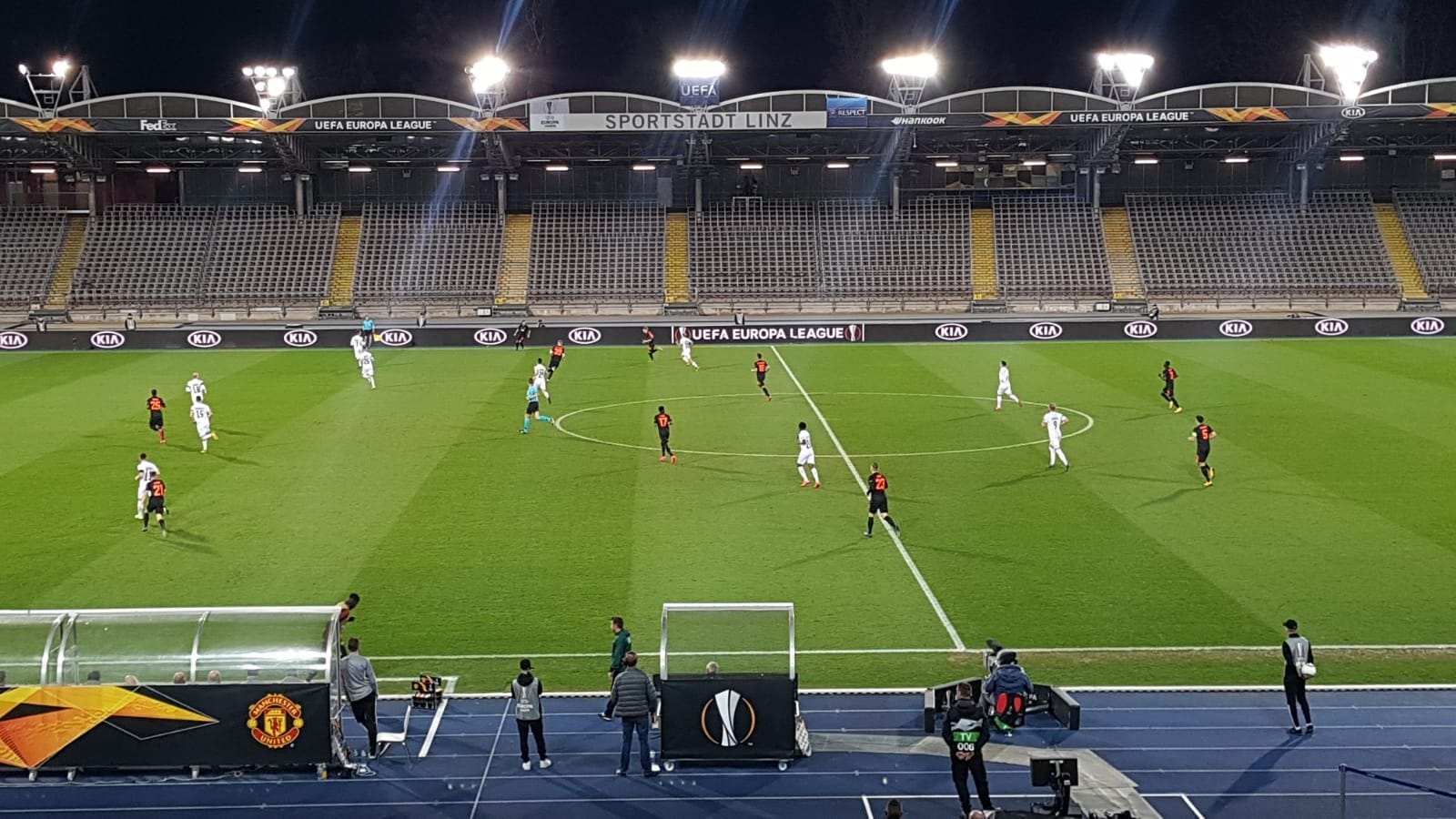 LASK had been forced into making a number of changes for this match – first choice defenders Petar Filipovic and Philipp Wiesinger were suspended, while winger Thomas Goiginger had sustained a season-ending knee injury in the Mattersburg game – and it told. Their English opponents were very much in the ascendancy in the opening half hour, and they opened the scoring in style on the half-hour mark when Odion Ighalo received the ball inside the box, took three excellent touches in close confines and unleashed a shot into the top corner. The goal – which had been coming, it must be said – drew chants of "U-N-I-T-E-D, United are the team for me…" from two fans who had broken into the Linzer Stadion (they were swiftly ejected by security, and one was then arrested and fined for attempting to gain re-entry). The home support responded with a chant of "Steht auf, wenn ihr Laskler seid" (Stand up if you're a LASK fan) and all got to their feet. Certainly the most charming and impeccably behaved 'Ultras' I've ever seen.

With the two trespassing Manchester United fans having been ejected, the only visiting support in the second period came from the two members of the YouTube fan channel United Stand. Safe to say their chants of "Brunooo, Brunooo…" did not go down well with the British journalists in the press box, who shook their heads silently in disapproval.


The second goal came towards the hour mark when Anthony Martial fed Daniel James on the left flank, the Welshman ghosting past the usually so reliable Trauner all too easily before beating Alexander Schlager with a shot inside the near post. LASK almost halved the deficit a quarter of an hour later when Klauss' long-range attempt whistled wide of Sergio Romero's goal, prompting me to swear under my breath and Andy Mitten, the founder of the Man Utd fanzine United We Stand, who was sat next to me in the press box, to ask me which side I was really supporting (I had told him before kick-off that I had started supporting Man United back in 1997/98). In truth though, I felt mightily sorry for LASK at having been robbed of their big night, and I wanted them to at least get a goal to remember it by.


Sadly, that was not to be. Mata made it 3-0 in the 82nd minute – it had been far too easy for Fred to thread a through-ball right through the middle of the LASK defence – to put the result beyond doubt, before stoppage-time strikes from substitutes Mason Greenwood and Andreas Pereira completed the rout and capped a miserable night for the home side. It was LASK's second-biggest European defeat ever – behind only a 7-0 thrashing by Hungarian outfit Újpesti Dózsa SC in the 1977/78 UEFA Cup – and their heaviest competitive loss since going down 5-0 at Austria Vienna in 2011. But the scoreline definitely flattered the Red Devils, as Ismael pointed out in his post-match press conference. "The margin of victory was too high," said the former Wolfsburg and Nuremberg head coach. "It's a learning process for us. The quality of Manchester United was ultimately a decisive factor today, as were our injuries, suspensions and the empty stadium. Plus, the new information we had filtering in on an hourly basis did not make for optimal match preparation."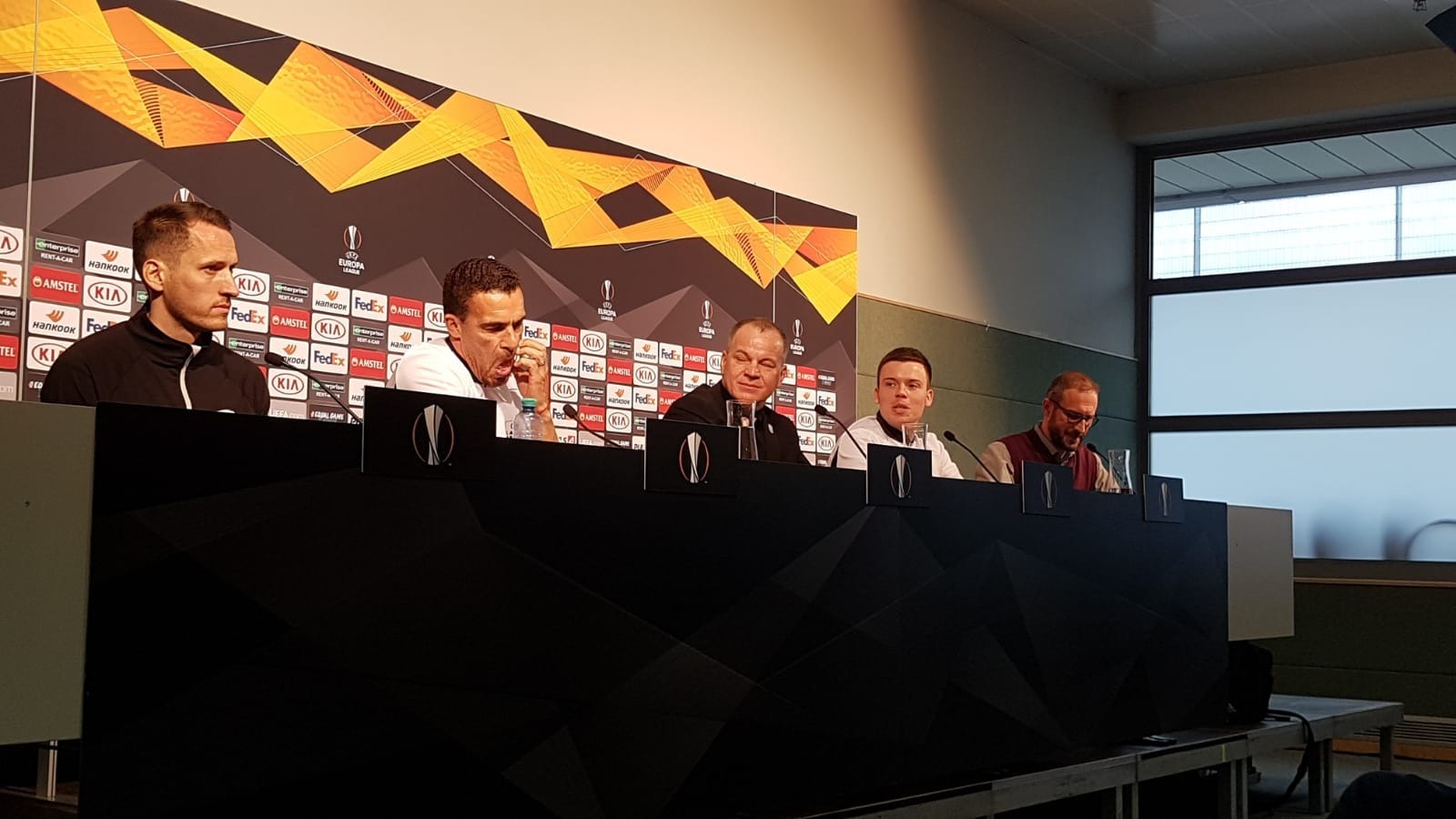 The following day, UEFA predictably released a statement announcing that the Champions League and the Europa League had been suspended until further notice. "In light of developments due to the spread of COVID-19 in Europe and related decisions made by different governments, all UEFA club competitions matches scheduled for the following week are postponed," the statement said. "UEFA has invited representatives of its 55 member associations, together with the boards of the European Club Association and the European Leagues and a representative of FIFPro, to a video conference meeting on Tuesday 17 March to discuss European football's response to the outbreak."


What we have learned from that meeting – apart from the inevitable postponement of EURO 2020 by a year – was that UEFA has set up a working group set up to examine possibilities to complete this season's Champions League and Europa League competitions. But at this stage we cannot say for sure whether LASK's second leg against Manchester United at Old Trafford will ever be played. Of course, the tie is already over as a contest, but wouldn't it be nice if the fixture was honoured anyway once the coronavirus pandemic is over so that the fans could have their big moment at the Theatre of Dreams? In Linz, they still talk about their 1985 UEFA Cup meeting with Inter Milan. It would be great if they could have similarly fond memories of their trip to Old Trafford. They would remember it forever.