On loan from Seattle to Salzburg: Time well spent?
Sota Kitahara has been part of the academy at MLS side Seattle Sounders since 2016, and as a local Seattle lad, he's dreamed of making the step up from sister team Tacoma Defiance to the Sounders' first team. Kitahara has been on the score sheet with USMNT youth selections in recent years, and getting some more national call-ups is high on his list of priorities, too.
When presented with the opportunity to move to Europe at just 18 years of age, Sota Kitahara grabbed it with both hands, jetting off to join Austrian third-tier team FC Pinzgau Saalfelden on a short term loan deal with the aim of going back to the States with new experiences behind him, and new skills under his belt to help him achieve his ambitions in the MLS.

The Other Bundesliga's Tom Middler sat down with Sota at the end of his Austrian adventures to find out whether or not it would go down as time well spent for this promising young player.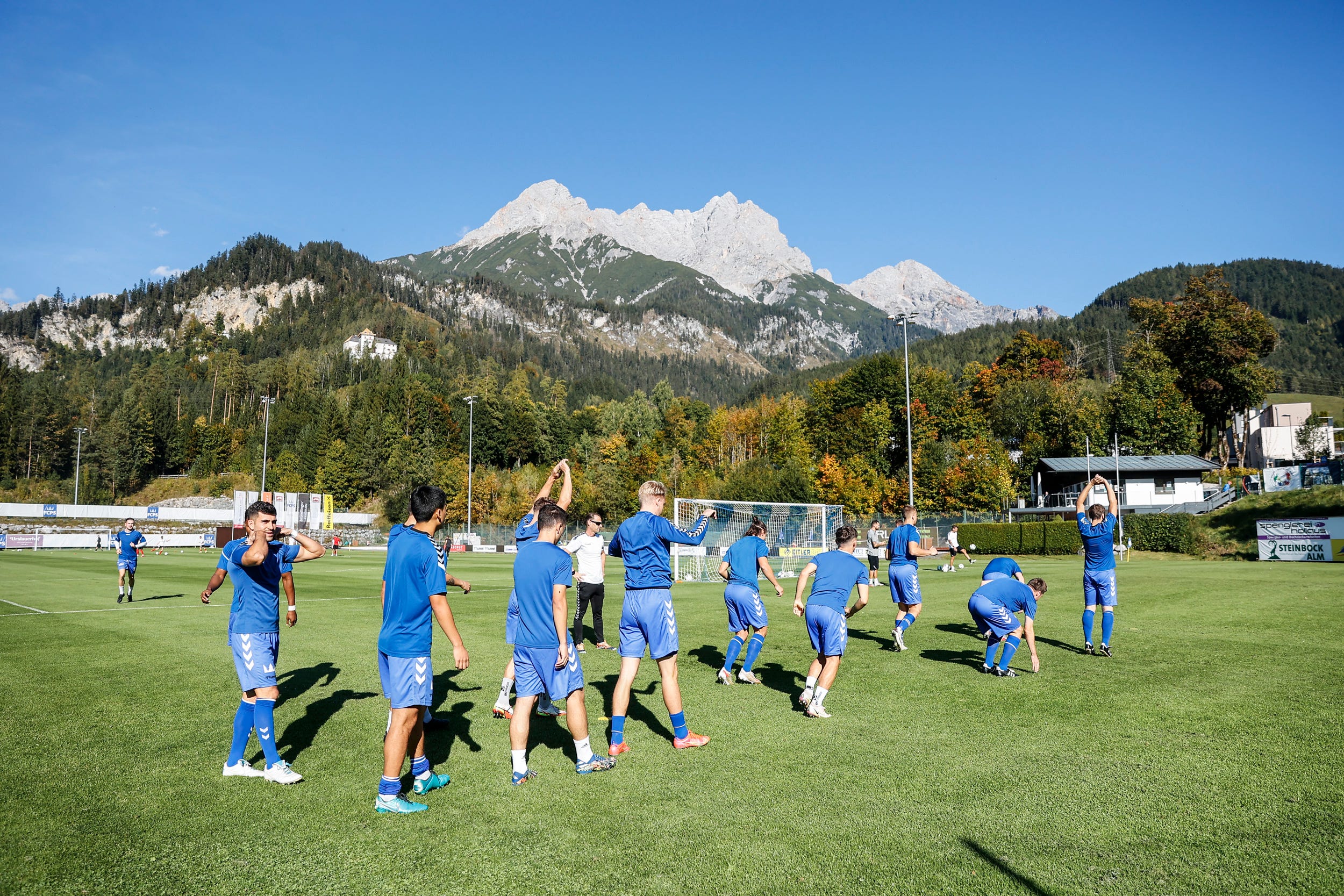 Above: It's picturesque, but is it productive? Kitahara spent the latter half of 2021 at FC Pinzgau Saalfelden in the stunning Austrian countryside. [Picture: FC Pinzgau Saalfelden / Jasmin Walter]
"It was a big factor to know that there were young Americans who came to FC Pinzgau and succeeded afterwards"
The Other Bundesliga: Sota, how tough was it to uproot your life and move over to the Austrian Alps this year?
Sota Kitahara: Everyone was very welcoming. At first - I wouldn't say it was really hard - but just adapting to the new place and the new team was a little hard. I think two weeks in I started to get on a roll and become more comfortable in Austria.
TOB: Coming from football (or soccer) over in the US and then finding yourself in the Austrian regional leagues, were you shocked at the level of the play here? It's not always "the beautiful game", but it's not always easy to play against either, is it?
SK: I watched the first few games and I thought, "It's alright, it's not the best", but after you play in it, it's harder than you think! My attitude had to be hard working, and absolutely not cocky or anything like that. Compared to soccer in the US, the playing styles and the tactics are different. In Austria it was a bit more vertical with lots of long balls, whereas in the US you tend to get more time on the ball at the back to circulate.


TOB: Does that give you a helping hand, to experience playing against some different styles and tactics?

SK: I think it's definitely going to help me develop as a player, because at the highest level it's not all short passing and calm soccer. Look at the German Bundesliga, it's fast, it's up and down; to succeed you have to be able to play all kinds of soccer.


TOB: FC Pinzgau are an unusual club in Austrian football with their international fan ownership model and their previous loan signings of US-based players like Pablo Ruiz and Andrew Brody who are at Real Salt Lake, Josh Heard who's now doing well in Canada with Pacific FC and others. Was that interesting for you?

SK: I remember at the home games, having American fan owners come up and say "Hi" to me, and I thought "Oh! Someone from the US is here!" I knew about Pablo and Andrew who are doing big things in the MLS, and I think it was a big factor, to know that there were young Americans who came to Pinzgau and succeeded afterwards, so I think it helped me choose to go to FC Pinzgau.


TOB: I'm sure, much like those players, you'll now have fans in Austria and around the world looking out for how your career goes in the future! When it came to this year in the Salzburg Regional League though, there were a lot of games packed into a short space of time. As a loan player, did you get settled into the team mentality quickly?
SK: Yes, it's hard not to get engaged in the league, the games, the stats. It's a really tight league and we were fighting for a place at the top, and because I got to play most of the games I was even more engaged with every point and the battle for those top two spots in the table.
Below: Hard work endeared him to the FC Pinzgau fans, but will it be enough to help Kitahara (in blue) break through at his parent club in the MLS? [Picture: FC Pinzgau Saalfelden / Jasmin Walter]
"I try not to leave any regrets out on the field"
TOB: FC Pinzgau went on a great run of victories in the second half of the season, what was it like being in the dressing room for that?
SK: When we were on a roll, we were all talking really positively about each other and our play, but in the first half of the season with all the draws it was a bit harder to get everyone speaking up in the dressing room. A few players were really vocal, but of course the mood wasn't great when we lost. In the second half of the season, winning those games and going on a roll, that helped us stay a lot more positive.
TOB: Ultimately, despite a great run of six wins in seven games, Pinzgau finished third and fell short of the play-off places in the top two. Do you have any regrets from your time with the club, or at the way the season ended?
SK: Losing the last game [against play-off rivals SV Austria Salzburg] to a penalty in the 93rd minute, that was a hard game. Perhaps I could have got a few more assists, but overall I think I was able to help the team in most games. I try not to leave any regrets out on the field, but if I had to pick one it would be the loss versus Seekirchen. I played as the right centre back, and they scored a goal down my side. It was a big game for us too, but that's soccer, that's how it is sometimes.
TOB: All things considered, you seemed to make a big impact in just a few months. Do you have any highlights from your time on the pitch in Austria?
SK: Well actually there was a game away from home at Bischofshofen, we drew 0-0 but a lot of weird stuff happened, like some crazy saves from inside the six-yard box, it was fun! I'd have to choose the game where I was 'Man of the Match' though.
TOB: That makes sense! You got that 'Man of the Match' vote in an incredible 7-0 home win, and you managed no less than three assists in the game; a hat-trick of great crosses from the right wing. It's easy to forget that right back wasn't your natural position before you came to FC Pinzgau. Is that one of your biggest takeaways from this loan spell?
SK: Yes, my biggest takeaway is definitely that playing at right back has gotten a lot better. I've never really played at right back for a number of consecutive games, so I think that's helped my versatility. Being able to play 6 and 8, and now 2, all those positions, that'll really help me.
TOB: Having a UEFA EURO '96 winning defender as a head coach can't have done any harm there, can it?
SK: It was an honour to work with Christian Ziege, he helped me a lot with my game at right back. I've never really had much coaching for that position, so it was really helpful to have him show me the skill sets that I need to play there.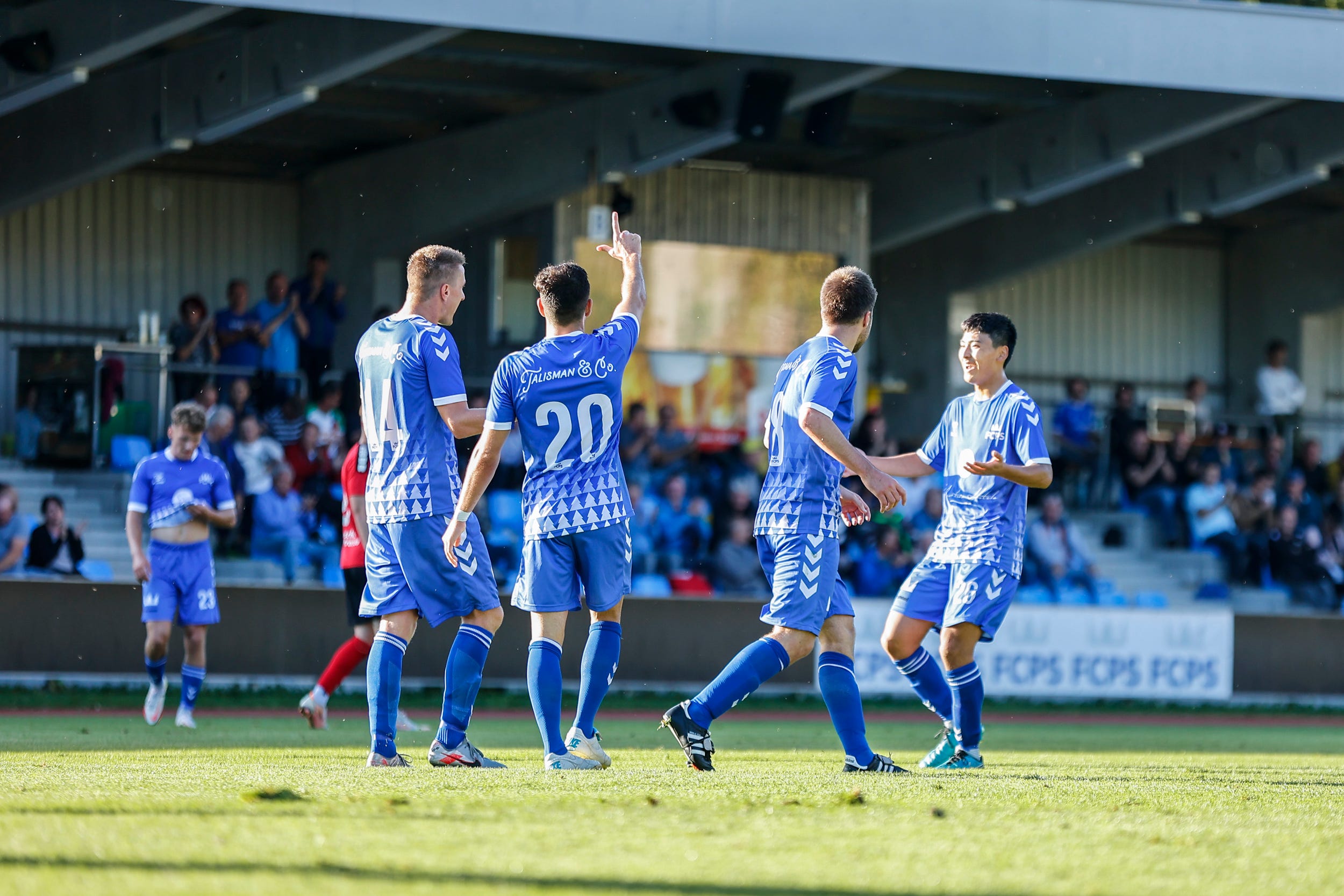 Above: Sota (Right) racked up over 1500 minutes on the field for the Mountainous Pine Blues, with 4 assists in 19 appearances, predominantly covering at right back. [Picture: FC Pinzgau Saalfelden / Jasmin Walter]
"I think that hard work at training is the minimum that I need to do"
TOB: Someone at the club told us that your work rate after hours was very impressive too. Is that something you pride yourself on?
SK: On about 95% of the off-days I went to the field on my own, just dribbling, shooting, passing. I think that hard work at training is the minimum that I need to do, and I think that from there it needs to be like "who does more?" It's not all about how much more that you do, but the focus that you put into that work, so my own training sessions are always short and sharp, not just long runs, more like fast-paced and focused training.
TOB: So was coming to Austria time well spent? Are you flying back to Seattle in a stronger position than when you came here?
SK: Yes, I think so. My confidence is definitely up. In July when I arrived, it was OK, I had done alright over in the US, but it wasn't the best time for me. Being here has definitely helped to boost up my confidence.
TOB: That's good to hear! What are your goals for 2022, when you're back in the US?
SK: My goal for next year is going to be playing some games with the first team. I think that I need to start getting involved at the first team level, that's a big goal for me. Playing with the first team, and also performing well with the second team and getting some national team camp call-ups. Those are the goals!
TOB: We wish you all the best for those! Finally, what will you miss about FC Pinzgau, and about Austria in general?
SK: I'll miss the team, it was a lot of fun to play with them, and I'll have good memories of carpooling with [FC Pinzgau teammates] João Pedro and Felix Adjei; every day it would be us going to training and back in the car. It was a lot of fun just to talk to them! I'll be watching out for the team's results though, and I'll definitely keep in touch with them. I'll be back in Austria one day. We do have some nice mountains near Seattle, but I think I'm going to miss the mountain ranges of Pinzgau when I'm back in Seattle. The time has gone so quickly!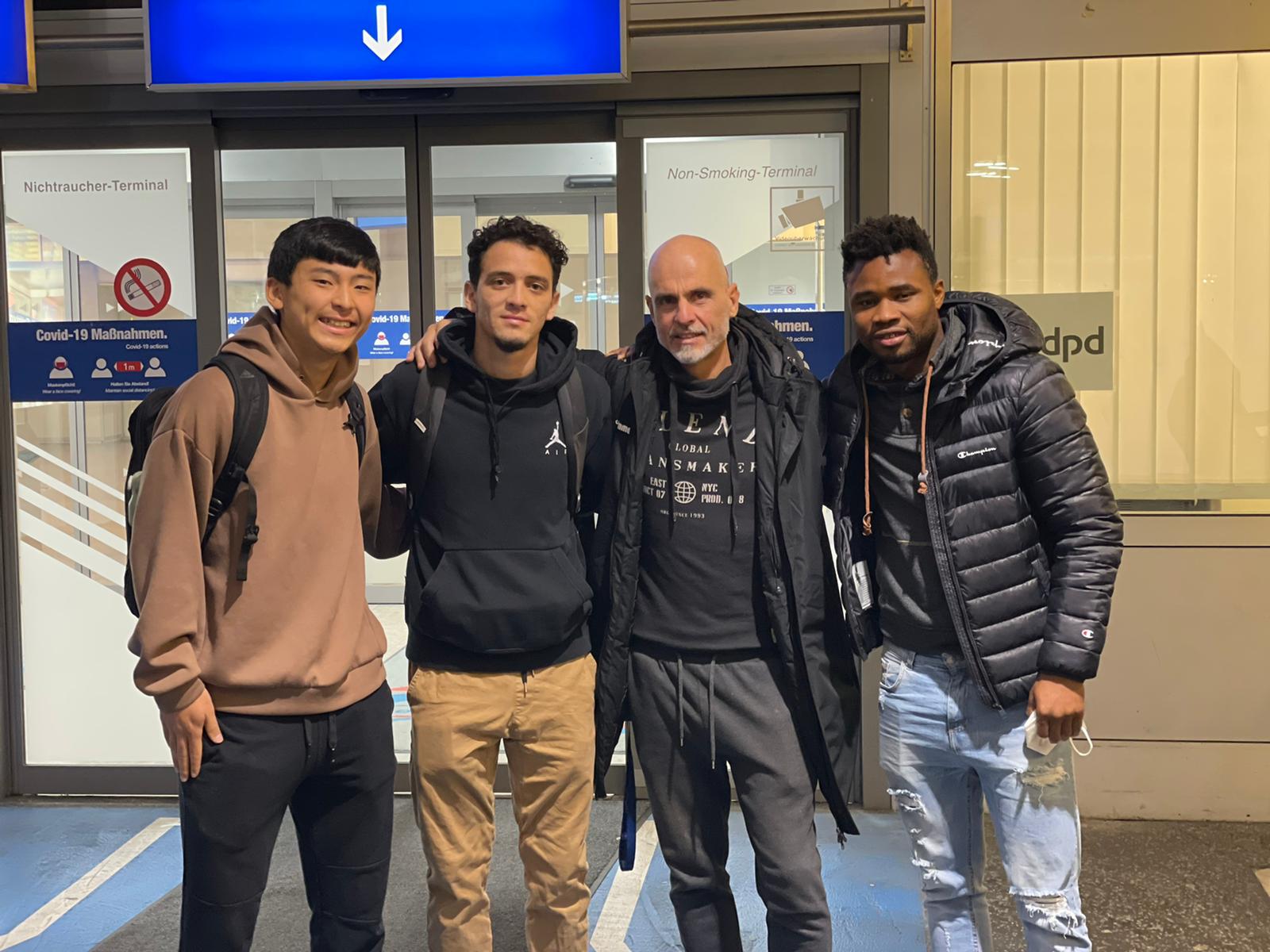 Above: Sota Kitahara (Left) was joined by fellow Sounders player Alfonso Ocampo Chavez (Second left: 14 first team appearances, 1 goal, 1 assist) on loan in Austria. Club announcer Gerhard Waltl (Second right) and defender Felix Adjei (Right) joined them at the airport at the end of the 2021 season. [Picture: FC Pinzgau Saalfelden]
It sounds like the loan move to FC Pinzgau was indeed time well spent for Sota Kitahara, but the true test will be how things go in the next few years of his fledgling career. We wish him all the best back at his parent club Seattle Sounders, and like many others who were impressed by his time in Austria, we'll be following Sota's games closely to see whether an MLS breakthrough is possible in the near future.
If you want to follow Sota himself, FC Pinzgau Saalfelden or The Other Bundesliga, our social media links are below.

If you're interested in becoming a Fan Owner of FC Pinzgau Saalfelden, you can find out more right here:
Twitter:
Insta: